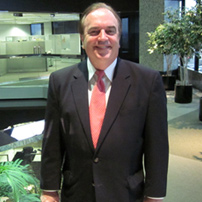 David W. Horan, M.D. email David
Admission Details
Admitted in 1983, Illinois and U.S. District Court, Northern District of Illinois
1986, Missouri
Law School Attended
Washington University
Class of 1983
J.D.
University Attended
University of Virginia (B.A.
Class of 1974
M.D.
1978)
Birth Information
Born in May 13,1952
St. Louis
Missouri
Biographical Details
Horan is a physician and attorney who graduated from the University of Virginia Medical School in 1978 and Washington University Law School in 1983. He worked for the firm of Corboy and Demetrio from 1980-1987. He formed his own firm, representing plaintiffs, in 1988 and currently practices in St. Louis, Southern Illinois, and Chicago. His practice is concentrated in the areas of medical negligence, product liability, and major personal injury cases. He has been of counsel with Burton Newman, P.C. since 1989. He is licensed to practice law in Missouri and Illinois, and licensed to practice medicine in Missouri. He is a member of several state and national organizations involving the ongoing practice of trial law. He is the author of several publications including a chapter, in 2008, on medical negligence in the book, "Medical Malpractice," by Richard Anderson, the CEO of the Doctor's Company, a national medical malpractice company based in California. He has also published on this subject in 2000 in the Clinics of North America special publication on medical malpractice by the AMA. Horan has also spoken on this subject to several legal and medical groups including the AMA, ASPS, ACS and ITLA. He was one of four plaintiff trial attorneys in the case of Price vs. Altna Corp., which resulted in a $10.1 Billion judgment against Philip Morris Company for fraud in the use of light cigarettes in 2003 in Madison County, Illinois. He was also featured in the book, "The Litigators," by John Jenkins of the New York Times. An excerpt from this book involving Horan's work with Corboy in the case of Karsten vs. McCray, is as follows "A lawyer born the same year that his mentor Corboy began practicing, Horan was new to this world of high-stakes malpractices cases. But he was a real go-getter, and his medical degree gave him a clear advantage. That was why Corboy sent him out on this particular Thursday morning, a month before trial, to take the deposition of the doctor who both Corboy and Horan thought was going to be the defense's star witness," This case was decided by the Illinois Supreme Court in favor of the plaintiff, and is cited for its principle in the practice of medical negligence in Illinois today.