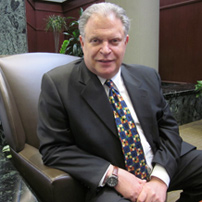 Burton Newman Peer rated as preeminent AV Attorney email Burton
Primary Practice Areas
Catastrophic injuries - including; medical malpractice, serious vehicular collisions, defective product liability and wrongful death.
Biographical Details
Burton Newman is a seasoned trial lawyer with wide ranging experience, primarily in the fields of catastrophic injuries and medical malpractice. In 2003 he was named one of the top ten lawyers in the State of Missouri by Missouri Lawyers Weekly.
His primary practice is in Clayton, Missouri. In addition, he was of counsel for 5 years to The Cochran Firm in St. Louis as part of the national firm formed by Johnnie Cochran, Jr.
Burton Newman was born in St. Louis in 1946 and attended the University of Missouri- Columbia. He earned a B.S. in 1969 and his J.D. with honors in 1972. He was an editor of the Missouri Law Review and was selected for membership in the national honorary, Order of the Coif. He was the recipient of the Ike Skeleton Memorial trial practice award. He published an article in the Missouri Law Review on the Equal Protection Clause of the United States Constitution.
In addition to his tort based practice, he has done considerable pro bono work. He became actively involved with the American Civil Liberties Union of Eastern Missouri in 1972 and has served as a General Counsel for that organization for 5 years. He is a member of the Board of NARAL Pro Choice Missouri and a Board member of the Missouri Budget Project. He was lead counsel in the Missouri suit challenging the constitutionality of concealed weapons legislation in the Missouri Supreme Court. He has lectured state-wide on the Second Amendment and its interpretation. More recently, he participated at trial and argued the challenge to legislation requiring voter photo identification. The Missouri Supreme Court struck down the law.
He has been involved in many constitutional issues, including trial of the landmark case of Planned Parenthood vs. Danforth, decided in the United States Supreme Court. One of his most memorable cases involved a discrimination suit on behalf of a female attorney against all twenty-one Circuit Court Judges of St. Louis County. The favorable verdict in United State District Court included a punitive award against the presiding Juvenile Court Judge. The verdict was upheld when the United States Supreme Court denied review of the case.
He is an Adjunct Professor at Washington University Law School in St. Louis where he teaches an advanced course on the trial of civil jury cases.
He is a member of the Million Dollar Advocates Forum; the St. Louis County Bar Association; and Missouri Trial Lawyers Association. Burt has been admitted to practice in the U.S. Supreme Court; U.S. Court of Appeals; Eighth Circuit and U.S. Federal Court of Washington, D.C., U.S. District Court, Eastern and Western Districts of Missouri; and the U.S. District Court for the Southern District of Illinois.
He has achieved the highest peer rating of AV Preeminent by Martindale Hubbell, the international lawyers directory. Lawyers.com
Burt is married to Stacey Newman, a legislator in the Missouri House of Representatives. He has three children and four grandchildren, all living in St.Louis. Mr. Newman has been a guest lecturer on forensic psychology at Washington University in St. Louis.